USD/JPY finally wakes up from its slumbers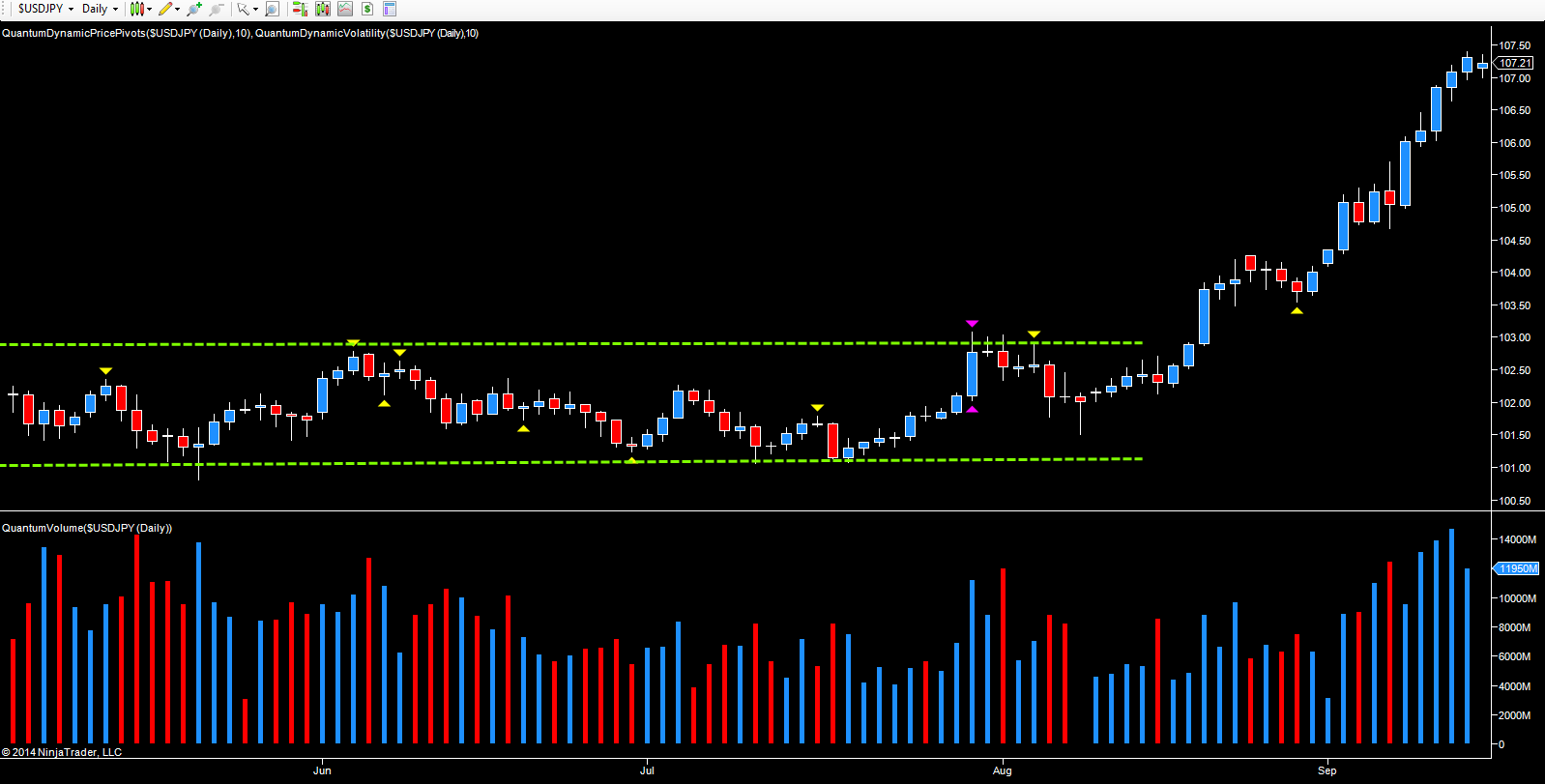 USD/JPY – daily chart
For forex traders in the USD/JPY, whether in the spot market or the futures market, it's been a question of patience, patience and yet more patience following last year's meteoric rise helped, supported and encouraged by the BOJ. Throughout much of 2014, the USDJPY has traded in a narrow range, building a strong platform of support and resistance, as the congestion phased extended from late spring and into the summer months, with the pair moving between 101 to the downside and 103 to the upside and as defined with the green dotted lines. Finally towards the end of August we saw the first signs that the pair were preparing to breakout, with the wide spread up candle, breaking through the resistance region, and closing well above at 103.73, before moving into a secondary phase of price congestion, between the 103.50 region and 104.20. This was duly breached in early September with strong and rising volumes validating this move higher before pausing once again in the 105 region.
Last week's price action simply confirmed the bullish sentiment for the pair once again, with five days of solid gains with the USDJPY moving through the 107 region with a resurgent US dollar the driving force. The daily volumes also confirmed the bullish tone with a rising market supported by strong and rising volumes, a sure sign that the trend is building and developing. With the markets now awaiting the FOMC meeting on Wednesday, we may see a further period of congestion at this level, before the pair move higher once again in the short to medium term.
USD/JPY weekly chart
Moving to the weekly chart, this confirms the current bullish picture and here too, we have a rising trend supported with strong and rising volumes. In addition, the clearance last week of the 105.43 high of December 2013, has now laid the foundation for a solid platform of support and a further leg up in the move higher in due course. And on this time frame, the extent of the congestion phase is self evident, where finally patience has been rewarded!
By Anna Coulling
What others are reading on Finances