Not all MLPs beholden to oil prices
Behind the Numbers–one of my favorite research services–had some interesting comments on the MLP sector in today's Thursday Thoughts.
For an asset class once known for stable dividends backed by recurring revenues from long term contracts, MLPs have turned into investment divas – strong performers with lots of volatility. The Alerian MLP Index (AMZ) outperformed the S&P 500 in 2009, 2010, and 2011 – and despite the huge move in the broad market last year, came close to matching the S&P 500 in 2013 (27.59% vs. 32.38%). The MLP index is still ahead of the S&P 500 year to date after rebounding from a massive sell-off in October. Still, AMZ is below levels of the late summer and early fall.

Much of the blame for the sell-off has been attributed to the sinking oil price. Most MLPs operate in the energy sector, and depending on their business model, can be adversely affected when oil prices are hammered by some 20%…

But many MLPs, some of the largest in fact, operate pipelines with little direct exposure to energy prices. Instead, these operators earn fees based on the volume of gas flowing through their pipes.

We will be the first to admit that results can vary widely even for volume-driven pipeline companies. As with any industry, these managements may make good or bad acquisitions, spend too aggressively or too timidly on capex, or find their existing infrastructure too far from the latest large shale play. The accompanying table, however, lists the largest 20 MLPs by market cap. For the vast majority of these, fee based transactions drive their operations (We excluded some big investment firms structured as MLPs that otherwise would have made the list, and El Paso Pipeline which was recently acquired by Kinder Morgan):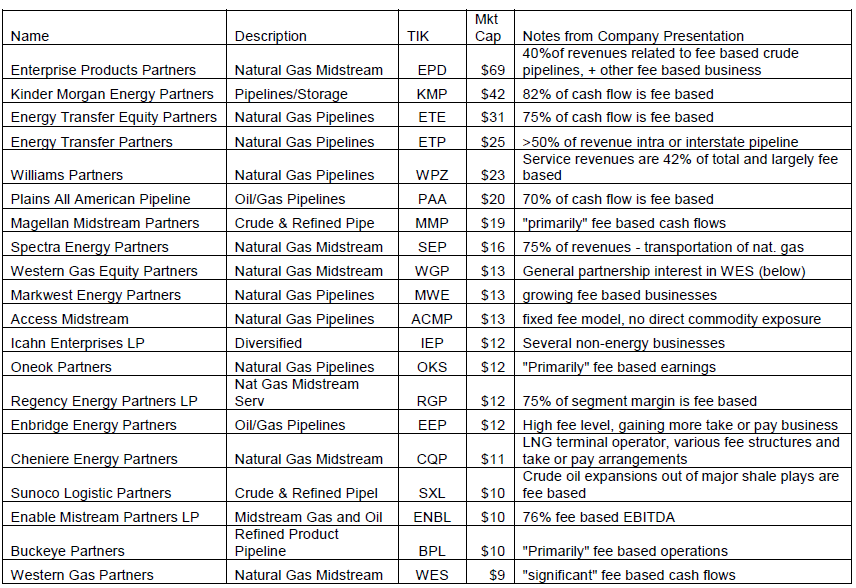 Source: Behind the Numbers
Charles here: Behind the Numbers included one MLP in particular–Carl Icahn's holding company Icahn Enterprises LP (IEP) that is not at all a pipeline MLP, though it does have indirect exposure to energy prices via some of its portfolio holdings, such as CVR Energy (CVI).  It also has exposure to energy via its ownership interest in Icahn's hedge fund, which in turn has large positions in  Chesapeake Energy (CHK) and other energy-related companies.  Icahn, incidentally, had a terrible third quarter, driven, in his own words, "by a meaningful decrease in the value of our core energy investments."  For my recent comments on Icahn–and what he's doing right–see Why Carl Icahn is (Kinda) Right About Apple.
Returning to Behind the Numbers,
The other new phenomenon in play here is all the new ETFs and mutual funds set up that focus on MLPs and the MLP index. When people start to sell those products, the selling hits all the MLPs, even those with very little oil price exposure. That is especially true of those tracking an index. Having $1 billion in assets fall to $800 million means all positions have to be sold by 20% to maintain the index weightings. There is no quality decision made. Other MLP companies like Linn Energy are very directly exposed to lower commodity pricing (short term hedges aside) because they are an exploration company. When people get spooked about LINN and sell their ETF or Mutual Fund, it leads to a bloodbath for all the stocks in the index. The result is the better companies sell at lower prices for awhile. Even after the rapid sell-off over a few days, many of the low-commodity exposure MLPs have still continued to post great returns.

Incidentally, while investors were pouring out of MLPs during the rout last quarter, some of the company insiders were buying aggressively.
I would agree that the drop in energy prices is not much of a risk for most popular MLPs.  The risk I would be far more concerned about given the relatively modest yields that MLPs offer compared to their historical averages is that of rising bond yields.
I should be clear: I do NOT see bond yields rising significantly over the next several years.  My forecast is for the 10-year Treasury to bounce around in a range of about 2.2% to 3.2% over the next 5 years with an average around 2.6%.  But if I am wrong here and yields aggressively rise over a short time horizon, then MLPs–along with REITs, BDCs and other income-oriented investments–will take a hit.
Bottom line: If you invest in MLPs, don't sweat falling energy prices.  But keep an eye on bond yields.
Charles Lewis Sizemore, CFA, is the chief investment officer of the investment firm Sizemore Capital Management. Click here to receive his FREE weekly e-letter covering top market insights, trends, and the best stocks and ETFs to profit from today's best global value plays. 
This article first appeared on Sizemore Insights as Not all MLPs beholden to oil prices
What others are reading on Finances