Energy Insiders Are Buying: Should You?
Trying to call the bottom in crude oil right now is like trying to catch a falling knife.  The WTI crude oil spot price was over $100 per barrel as recently as late July.  Today's it's below $80.
Energy stocks, as measured by the Energy Select SPDR ETF (XLE) have seen similar declines since late July. The fear of slowing demand from Europe and emerging markets combined with a surge of new supply from the United States was enough to make investors sell first and ask questions later.
There is one group of investors that seems unfazed by the energy selloff: The insiders of the oil majors.  The ratio of energy insider buying to insider selling among energy executives is at its highest level in two years and has been steadily rising throughout the energy selloff.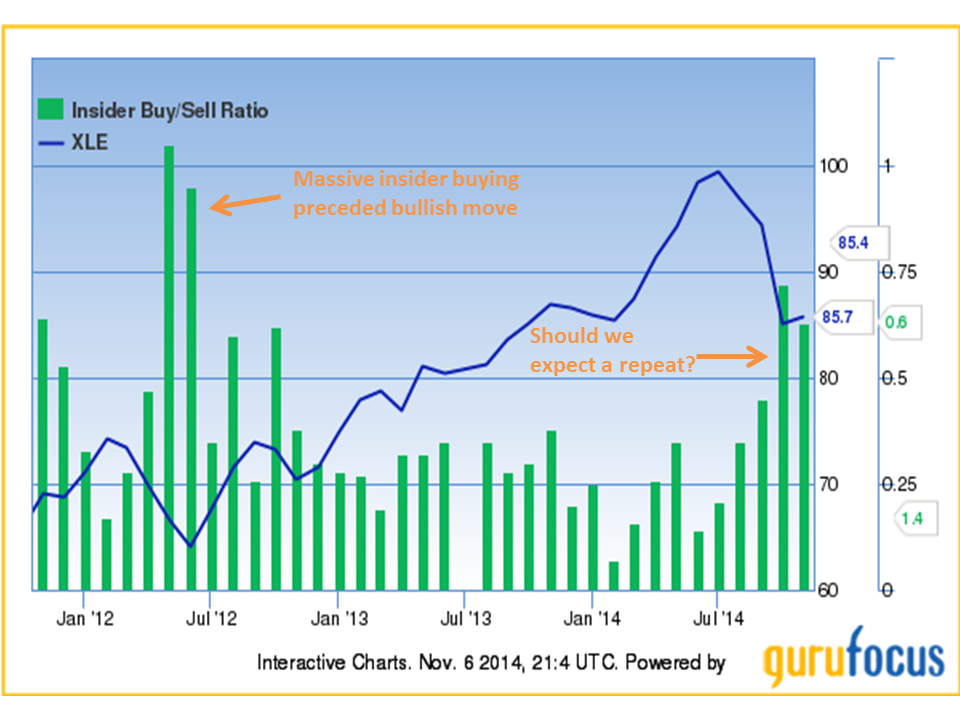 Executives tend to be the optimistic sort; it's easier to climb the corporate ladder when you have a sunny disposition and a positive outlook. And they also have a way of looking at their own companies through rose-colored glasses.  But they also know the ins and outs of the energy industry better than you or I do and certainly better than the average Wall Street analyst.  And their buying activity here tells me that they see the selloff in oil as either being a short-term blip or as being immaterial to respective companies' prospects going forward. Either way, they are bullish on their respective companies' stocks—and they're backing it up with their own cash.
An insider can sell their company's stock for any number of reasons. Perhaps they are diversifying—or perhaps they are buying new house in the Hamptons.  But there is only one reason why they would buy their shares on the open market: They consider them undervalued.
Insiders tend to be classic value investors and often enter their positions too early.  But as the chart above illustrates, recent periods of high insider buying activity has preceded large market moves.
I recommend you follow the energy insiders here.  Consider shares of the Energy Select SPDR ETF and plan to hold for the next 6-12 months.  I would recommend an initial stop loss around $80.
Charles Lewis Sizemore, CFA, is the chief investment officer of the investment firm Sizemore Capital Management. Click here to receive his FREE weekly e-letter covering top market insights, trends, and the best stocks and ETFs to profit from today's best global value plays. 
This article first appeared on Sizemore Insights as Energy Insiders Are Buying: Should You?
What others are reading on Finances