A classical chart and a classic car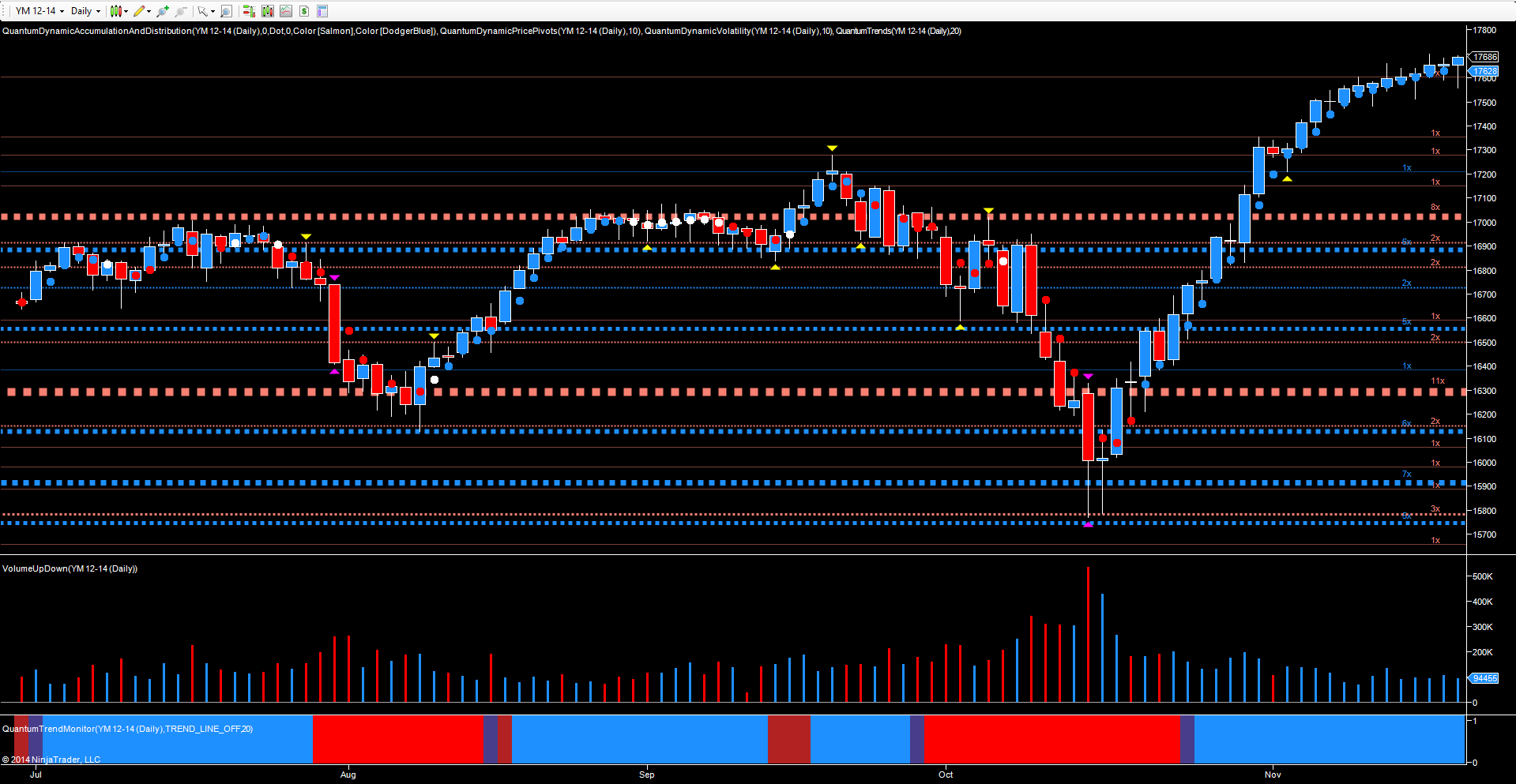 YM Emini – Daily
It is often said beauty is in the eye of the beholder, and for me, the daily chart of the YM E-mini is a chart of classical elegance, artistic in its construction, with the price action alone describing one of the most elegant and exquisite price formations over the last few weeks I have ever seen. It has much in common with the Ferrari 250 GTO.
Rare, classical in construction and perfect in design, the price action sweeps higher before slowing rolling over gently as the momentum of the upwards move gently ebbs away with the index reaching a pause in the longer term rally. This is truly a case where the price action quite literally speaks to you, with no need for any additional commentary. All that can be added to this picture perfect trend, is the volume profile which compliments and enhances this unique creation. And rather like the double rainbows often seen in nature following a heavy shower or rain, the arching price action of November, has mirrored its smaller cousin which was the pre-cursor to this sustained move higher.
So what are we to make of this classical formation, and perhaps more importantly, is this the  precursor to the much awaited "big short"? And to answer the last part first, my analysis would suggest we are not there – yet. And there are several reasons.
First, the time of year is a big factor with year end bonuses tantalisingly close, and window dressing the name of the game, this is not the time to rock the boat. Second, whilst volumes have remained average throughout the last few weeks in the move higher, there is nothing here to suggest anything other than a continuation of the bullish trend. Third and last, we are yet to see a selling climax in any timeframe, and until we do, then equities look set to continue to move higher still. Remember the words of Jesse Livermore – prices are never too to buy and never too low to sell. Wise words indeed, and worth remembering as equities and indices continue to float higher.
What is clear from today's minor move lower, duly reversed as the physical exchange opened, is that the bulls remain firmly in control and any move through the 17, 700 region, will then open the way for a further move high with the support platform below acting as the springboard.
What others are reading on Finances