A Very Digital Christmas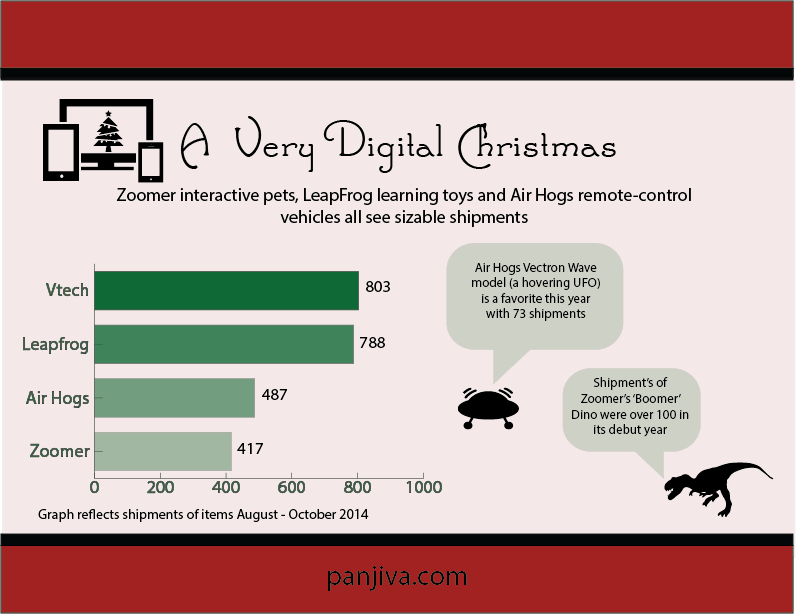 I've been writing for a while now that the disappointing Black Friday sales didn't tell the whole story. Yes, Black Friday sales were downby 11%, but the holiday discounting started weeks earlier this year and, frankly, the novelty appeal of Black Friday has worn off after six years of increasingly aggressive promotion.
I'm concerned about the economy. Both the bond market and the energy market seem to be signaling trouble ahead. But once the dust settles on 2014, I expect retail sales to be a good 4%-5% higher over 2013's numbers.
Two areas that seems to be doing well this holiday season are electronic toys and digital educational games. From Panjiva:
Data released today from Panjiva, the authoritative information source for global trade, suggests that children will receive a multitude of digital toys as presents this holiday season. Based on analysis of shipments coming into U.S. ports from August through October—the months when most holiday shipments arrive in the U.S. in order to arrive at retailers in time for the holiday sales push—several electronic toys have seen a dramatic uptick in shipments compared to the same period in 2013…

The new digital darling is Zoomer, an interactive dog with multiple sensors that allow him to behave just like a real dog. Shipments of the toy line reached 417 from August through October, marking a nearly 300 percent increase compared to last year and a marked jump over its debut on Panjiva's toy charts in 2012 with just 27 shipments. Although the canine Zoomer remains most popular, retailers are also anticipating high demand for its dinosaur variation; shipments of the Zoomer dino—known as Boomer—reached more than 100 in its debut year…

For parents wanting to provide educational toys for their children this year, Panjiva has good news: shipments of LeapFrog and VTech learning toys are both up and should be readily available. LeapFrog merchandise saw a 58 percent increase in shipments this year, reaching 788 total shipments of children's tablets, smart stuffed animals and other educational toys and games. VTech had 803 total shipments, marking a 26 percent increase over last year.
Call it a digital Christmas!
Charles Lewis Sizemore, CFA, is chief investment officer of the investment firm Sizemore Capital Management and the author of the Sizemore Insights blog.
This article first appeared on Sizemore Insights as A Very Digital Christmas
What others are reading on Finances