Oil breaks through a key level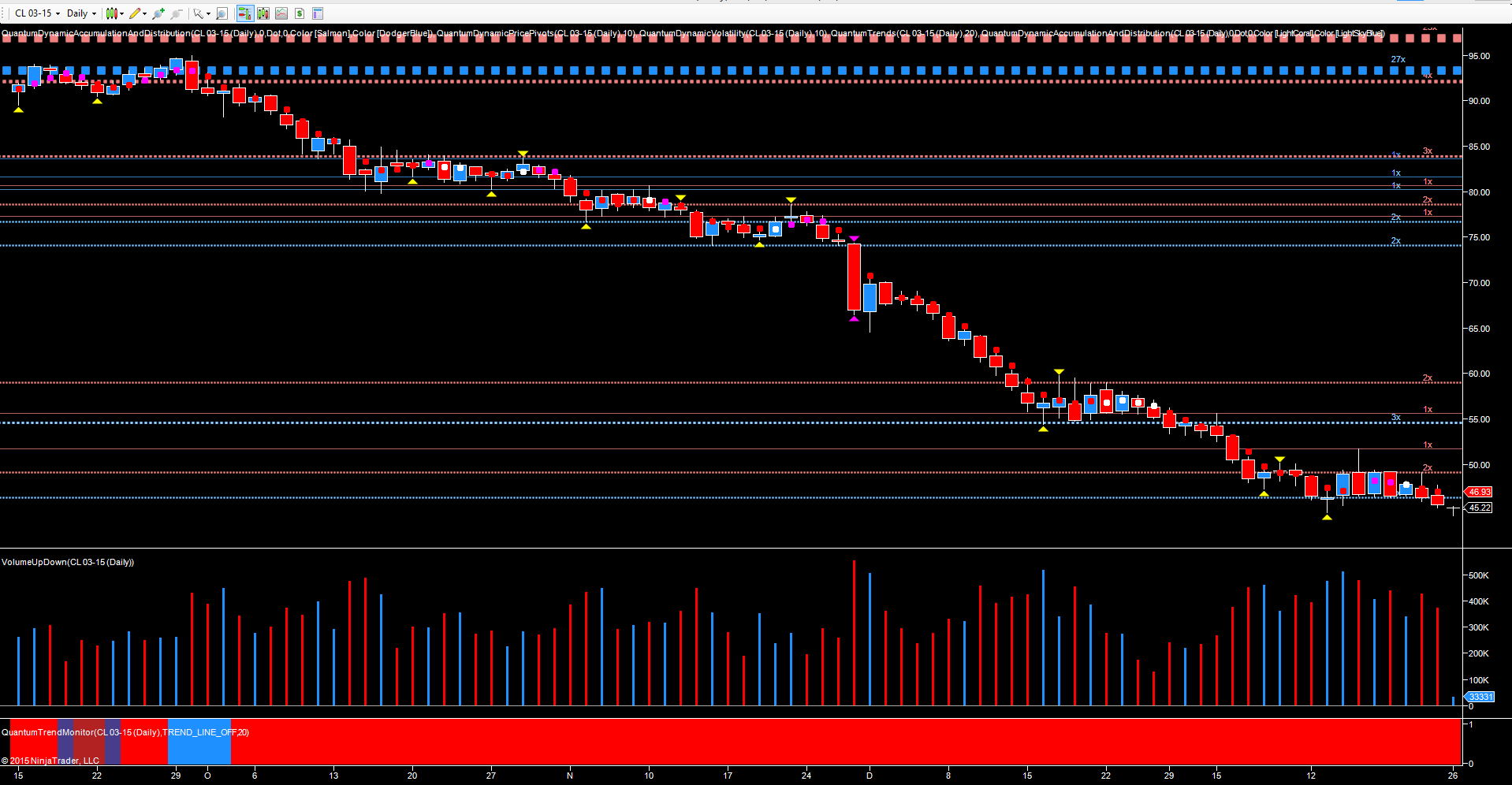 WTI March futures – daily chart
If oil bulls were hoping for some respite from the remorseless trend lower for crude oil, last week's technical and fundamental news failed to deliver, and even the death of Saudi King Abdullah did little to halt the heavily bearish picture, with the news providing a small intra day bounce higher, before normal service was resumed once again.
From a technical perspective it was Friday that proved to be the seminal trading day, following the clear weakness signaled on Thursday, with crude oil rising to test the resistance level at $49.09 before closing lower on the day at $46.31 per barrel, with a deep wick to the upper body of the candle. This bearish sentiment was picked up in Friday's trading session with the market then closing below the key support level in the $46.20 per barrel region,before finally ending the day, and the week at $45.59 per barrel. With this platform of price support now breached, oil has continued to move lower in early trading, and is now looking to develop a further leg down, possibly to test the $41 per barrel region in due course. Daily volumes continue to confirm the heavily bearish chart, and until we see evidence of a buying climax, of which there is none at present, then crude oil prices look set to continue lower still in the short term.
Whilst the technical picture is bleak, the fundamentals continue to add their own influence to the longer term outlook, with Thursday's large build in supply of oil inventories, adding yet further downwards pressure, with the 10.1m bbls exceeding the forecast build by 7.6m bbls – a huge discrepancy and one which helped to reverse the minor rally sparked by the death of the Saudi monarch. The US dollar too is adding it's own weight, and with the currency of first reserve continuing to climb, and building on the trend of the second half of 2014, this too is yet another factor helping to propel oil prices lower. Finally, of course, US production and export of alternative energy sources continues to increase, and with OPEC now firmly set on a collision course, the battle lines are well and truly drawn with oil centre stage, with only a cut in supply a possible silver bullet for oil bulls. In the meantime, for oil speculators and the public, it's time to enjoy the ride and lower prices, because rest assured the bottom will come, and as always it will be volume that reveals it all.
What others are reading on Finances