Oh là là! Looking for Dividend Yield? Explore France
This is scary time to be investing in Europe. With the Greek debt crisis kicked down the road for another four months and with most of the Eurozone dangerously close to slipping into deflation, investors have been parking their cash on this side of the Atlantic.
But investors flocking to American shores for the perceived safety are setting themselves up for disappointment, particularly when it comes to dividends. The U.S. is one of the lowest-yielding markets in the world at today's prices. An investment in the iShares Core S&P 500 (IVV) will get you a dividend yield of just 1.88%.
Meanwhile, across the Atlantic, you can get a dividend yield 75% higher by investing in French stocks. The iShares MSCI France ETF (EWQ), a collection of the largest and most liquid French stocks, yields 3.3% at current prices.
Let's take a look under the hood at EWQ's holdings. Though not all of EWQ's holding are readily available to U.S. investors as ADRs, all of the top-ten holdings are available either on the NYSE or over the counter.
iShares MSCI France ETF Holdings
| U.S. Ticker | Name | Weight (%) | Dividend Yield |
| --- | --- | --- | --- |
| SNY | SANOFI SA | 9.2% | 3.9% |
| TOT | TOTAL SA | 8.7% | 5.1% |
| BNPQY | BNP PARIBAS SA | 4.8% | 2.9% |
| LVMUY | LVMH MOET HENNESSY LOUIS VUITTON | 4.0% | 2.0% |
| AIQUY | AIR LIQUIDE SA | 3.5% | 2.2% |
| LRLCY | LOREAL SA | 3.5% | 1.7% |
| AXAHY | AXA SA | 3.4% | 3.8% |
| SBGSY | SCHNEIDER ELECTRIC SE | 3.3% | 2.7% |
| DANOY | DANONE SA | 3.1% | 2.5% |
| EADSY | AIRBUS GROUP NV | 2.7% | 1.4% |
At the top of the list we have French pharma giant Sanofi SA (SNY). As a global pharmaceutical company—and as a defensive stock that benefits from aging demographics—Sanofi is relatively unaffected by what happens to the Eurozone economy. It also carries a very modest amount of debt, implying that the company could ride out any turbulence in the credit markets due to a Greek exit from the Eurozone.
Sanofi also sports a nice dividend yield of 3.9%. Unfortunately, we probably can't expect a lot of the way of dividend growth in Sanofi, as it pays out about 90% of its profits as dividends.
The highest yielder among large-cap French stocks is oil major Total (TOT). Total sports a 5.1% dividend yield, making it one of the higher-yielding global majors. As a point of reference, ExxonMobil Corporation (XOM) yields only 3.0%.
Total, like most of its oil major peers, has made its dividend a top priority, and I consider its dividend safe for the foreseeable future. But with all oil majors slashing investment and divesting assets in this era of low oil prices, I wouldn't expect aggressive dividend hikes any time soon. Still, a 5.1% dividend yield, even with no growth, is attractive in a market where the 10-year Treasury yields just 2.0%.
Moving down the list, the next big-yielder would be insurance giant AXA SA (AXAHY), with a dividend yield of 3.8%.
Does buying individual French stocks make sense? Well, it certainly could. If you're bullish on energy stocks, as I am, then Total is certainly a strong contender. But the better option might be to simply buy EWQ and get an entire basket of French stocks. Using data from Research Affiliates, French stocks are priced to deliver vastly superior returns over the next decade. French stocks are priced to deliver real returns of 5.1% per year compared to just 0.4% per year in American stocks. It's worth noting that French stocks are priced well below their median CAPE valuations and are priced at about half of American valuations.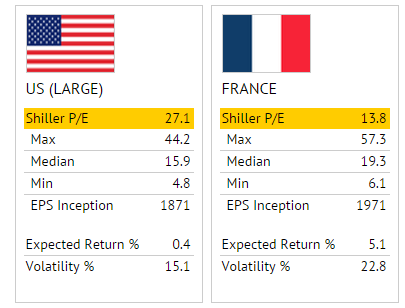 It's also worth noting that France—yes FRANCE—just pushed through a package of significant economic reforms. It wasn't easy, and French President Francois Hollande had to ram the reforms through over objections from parliament. But any improvement in the French attitude towards business and commerce is a major step in the right direction.
If you're looking for diversification away from expensive U.S. equities, investing in French stocks via EWQ is a solid option.
Disclosures: No current positions.
Charles Lewis Sizemore, CFA, is chief investment officer of the investment firm Sizemore Capital Management and the author of the Sizemore Insights blog.
This article first appeared on Sizemore Insights as Oh là là! Looking for Dividend Yield? Explore France
What others are reading on Finances