Straight Talk Money: What Warren Buffett Eats for Breakfast and the Passing of a Wall Street Legend
Warren Buffett, 84 years old and one of the wealthiest men to have ever walked the earth, survives on a diet of Cherry Coke, ice cream, and greasy potato chips. Actually, in his own words, he adopted the diet of a six year old because the actuarial tables suggested that a six year old has the longest life expectancy. It makes my own cravings for Whataburger and Dr. Pepper seem a lot less bad.
Peggy Tuck and I discuss Mr. Buffett's diet on Straight Talk Money.
Buffett reminds me of the father in Grumpy Old Men who subsisted on a diet of bacon and beer.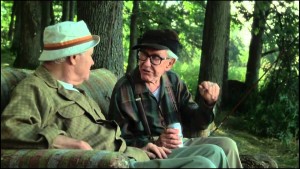 We also pay tribute to a Wall Street legend that passed away this week at the age of 109. Irving Kahn was working on Wall Street when the 1929 Crash hit and was still actively investing money for clients at the age of 109. Rest in peace, Mr. Kahn.
This article first appeared on Sizemore Insights as Straight Talk Money: What Warren Buffett Eats for Breakfast and the Passing of a Wall Street Legend
What others are reading on Finances