Aussie strength reflected in the EUR/AUD following RBA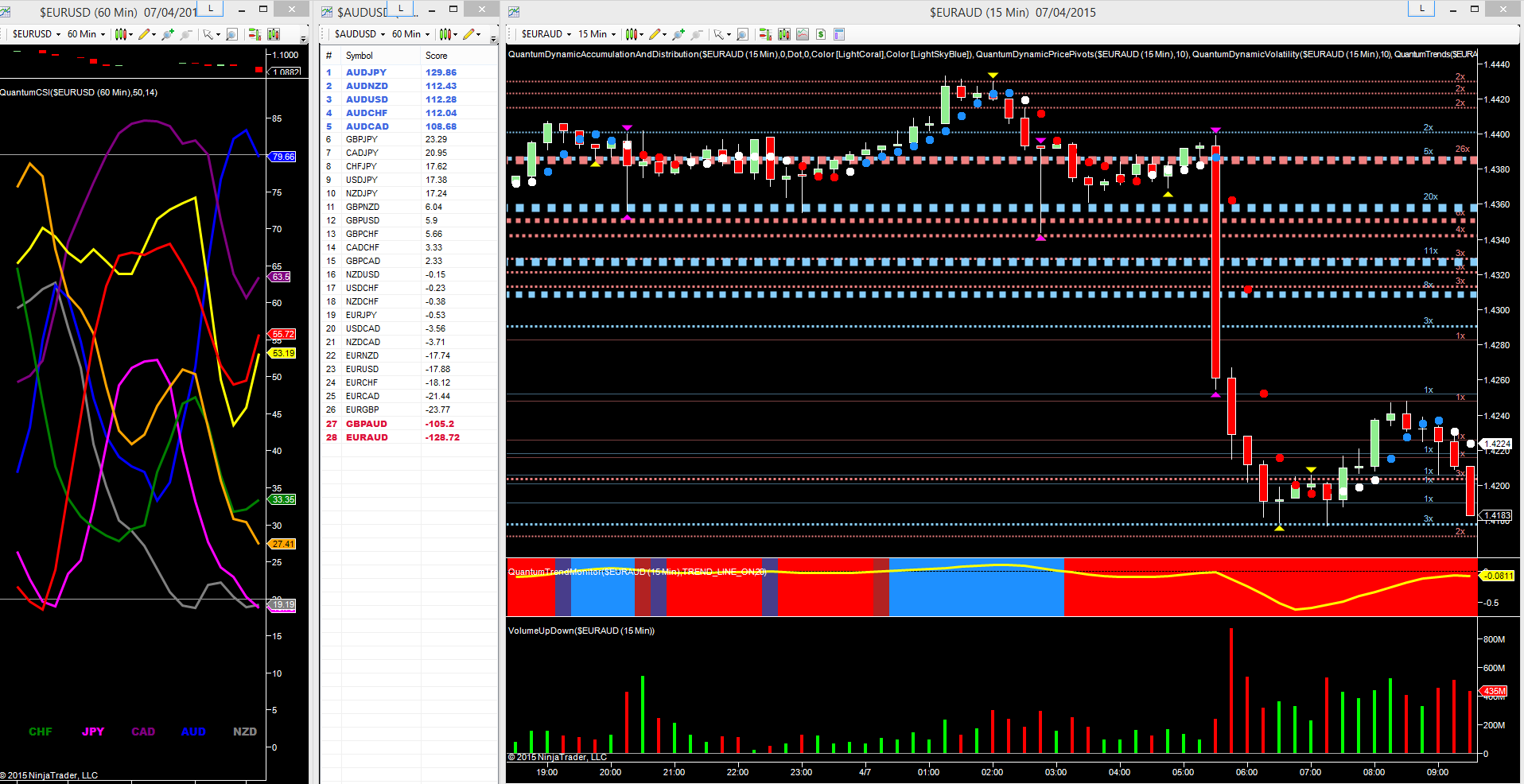 EUR/AUD – 15 minute chart
The focus for forex traders overnight was in Australia with the RBA taking centre stage with its decision on interest rates and associated statement. The release was preceded with some volatile price action which has raised several questions regarding who knew what and when, with accusations now flying of leaks and insider trading with the Aussie dollar spiking ahead of the release. The decision itself came as a mild surprise, with the RBA deciding to hold the current cash rate at 2.25%, with no cut. This was against the backdrop of declining commodity prices and a slowdown in China with many expecting the rate to be cut to 2.00%. As a result the Aussie dollar strengthened on the news against many of the major currencies, with another nice move on the EURAUD on the 15 minute chart.
The Quantum accumulation and distribution indicator initially defined the support and resistance region providing a strong platform of support in the 1.4360 and as shown by the blue dotted line on the 15 minute chart. This level had been tested on several occasions prior to the news. The bearish sentiment was confirmed with the trend monitor to the bottom of the chart which continues to remain bearish in this timeframe with the move lower accompanied by high volume and confirming the short term bearish trend.
Moving to the left of the chart and the currency strength indicator, the euro (the gold line) is continuing to move deeper towards the oversold region on the indicator, whilst the Aussie dollar (the blue line) is now approaching the overbought area on the 60 minute timeframe. The currency matrix alongside is also continuing to confirm the weakness of the EURAUD at the bottom of the currency ladder, and also reflecting the universal buying of the Aussie dollar in this timeframe.
With the new NinjaTrader forex brokerage account you can now trade both spot and futures from one platform, combined with the power of the FX Quantum trading indicators.
What others are reading on Finances