Loonie – a barometer of the USD and oil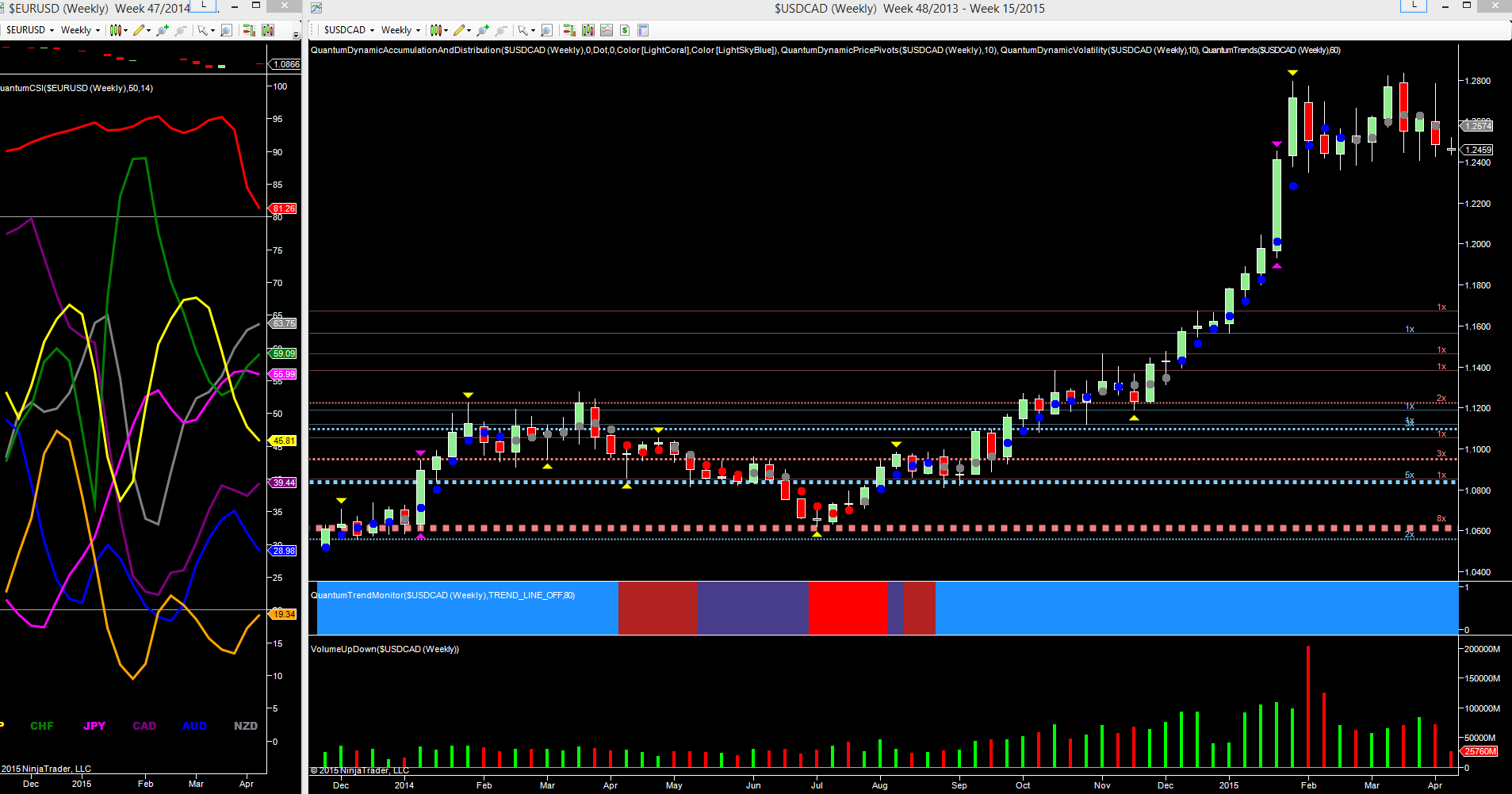 USD/CAD weekly chart
Today, of course, is FOMC day with the minutes due at 2.00 pm EST, and following in the wake of the dire NFP data on Friday it will be more than interesting to see whether the tone from the FED has dramatically changed and become even more dovish.
Meantime in the commodity markets crude oil has managed to find some traction, moving higher to test the $55 per barrel region, driven both by USD weakness and assistance from OPEC with a tightening of supply and an increase in wholesale prices to the far East. The currency pair which neatly reflects this picture, is of course, the USDCAD which now at an interesting point on the longer term time frames, in particular the weekly chart, and the weekly currency strength indicator alongside.
Moving to the price action on the weekly chart, here we can see the strong trend higher which began in September 2014, and supported on solid and rising volume finally ran into resistance in the 1.2800 region before a sharp reversal in early February. The initial down candle was accompanied with extreme volume signalling the start of a phase of a change in sentiment for the pair which duly moved into an extended phase of consolidation in this time frame. The resistance level above at 1.2800 was then tested on several occasions with the equivalent platform of support at 1.2400 also holding thereby keeping the pair constrained in a narrow range.
Last week's price action was particularly significant with the deep upper wick to the candle signalling weakness and also accompanied with above average volume.
So far this week the pair has been trading lower, again confined to a relatively tight range, and the key will be a breakout from this current congestion phase, with today's FOMC minutes potentially providing the trigger.
Any move through the floor of the current platform of support could then see the pair move firmly lower and develop a longer term bearish trend in due course.
This picture is also confirmed by the currency strength indicator, to the left of the chart, where we can see the US dollar (the red line) is now starting to move away from the heavily oversold region where it has been for several weeks. Equally the Canadian dollar (the purple line), is now beginning to rise from the oversold region which it just failed to penetrate, but is now rising firmly but with some way to go in this time frame.
Finally, for the Canadian dollar the main event is next week with the BOC interest rate decision. However, with the oil inventories later today, the FED minutes tonight and Canadian Building Permits tomorrow and Employment data on Friday these too are likely to add their own impact on the Canadian dollar.
What others are reading on Finances